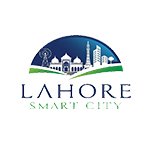 Lahore Smart City is second project from Habib Rafiq Limited after the marvelous success of Capital Smart City Islamabad. The glorious architecture, modern living, smart lifestyle, futuristic construction, state of the art town planning, design and civil engineering are our building blocks. Lahore Smart City is going to be the second smart city of Pakistan.
Executive & Overseas Blocks
Universities & Medical Colleges
Theme Park, Golf Course
Financial District
Silicon Valley
Mosques
Farm Houses
Healthcare District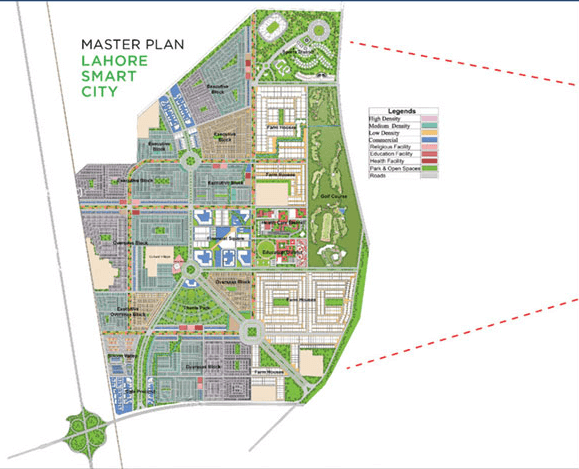 Lahore Smart City is located at the eastern bypass Lahore and also on the GT Road, less than half a km drive from Kala Shah Kaku Interchange on motorway. Well connected with the main Lahore city and can be accessed through the major routes. Some of the Major Benefits of this Location are:
• 40 minute drive to Gunranwala
• Via M2 motorway, Sialkot is within 50 minute drive
• Easy access to DHA and Lahore Airport via Ring Road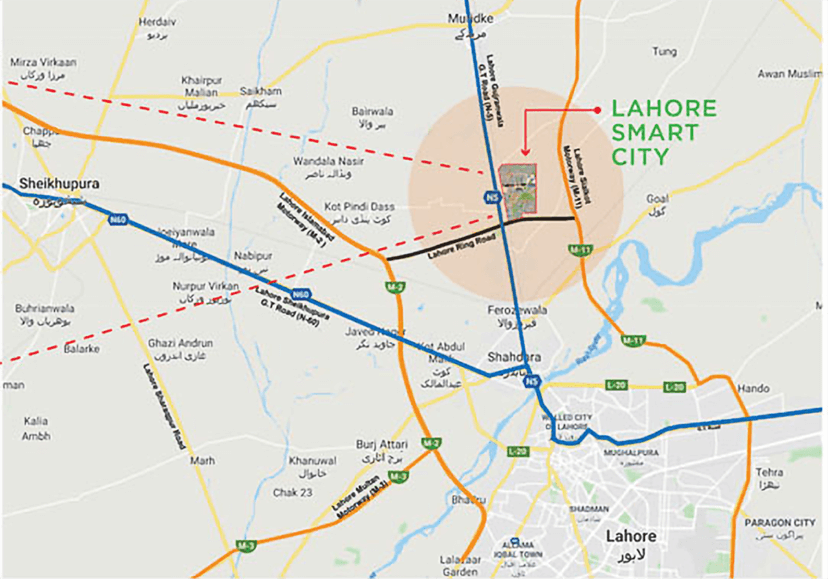 Lahore Smart City is the project of Habib Rafiq PVT Ltd. It is the 2nd smart city project of Pakistan after Capital Smart City. Habib Rafiq is the name that needs no introduction. They have worked with government on various projects. Development of Gawadar, Motorway, Chashma Power Plan are just few of the projects. In residential sector, most of the development of DHA and Bahria Town is also done by Habib Rafiq Group.
Lahore Smart City is designed by Surbana Jurong, a Malaysian company that specializes in modern infrastructure all over the world. This makes sure that you get the most secure and modern community, that is built on international standards.
Monthly, quarterly, bi-annually plans

10% discount

if all paid in lump-sum

5% discount

on 50% down payment
Plot Size

Plot Value (w/o dev. charges)

Fee

Installments
 

Executive Block

Overseas Block

5 Marla

2,160,000

2,280,000

12,000

14

10 Marla

3,960,000

4,080,000

15,000

14

1 Kanal

6,480,000

6,600,000

15,000

14
* Prime location charges: Facing Park/Corner/Main Road (Between 41′ and 99′) each contain 10 % extra of Total Price. In addition to the above, Main Boulevard (100′ and above) contain 15% extra of Total Price.
* Discount: 10% Rebate on Lump Sum Payment | 5% Rebate on 50% Payment.
* Fee (at the time of Booking): Rs. 12,000 up to 5 Marla | Rs. 15,000 above 5 Marla (Not Refundable).
Residential Installment Details
#
Installment details
Executive Block
Overseas Block
 
 

5 Marla

10 Marla

1 Kanal

5 Marla

10 Marla

1 Kanal

1
Booking
216k
396k
648k
228k
408k
660k
2
Confirmation*
216k
396k
648k
228k
408k
660k
3
1st Quarter
144k
264k
432k
152k
272k
440k
4
2nd Quarter
144k
264k
432k
152k
272k
440k
5
3rd Quarter
144k
264k
432k
152k
272k
440k
6
4th Quarter
144k
264k
432k
152k
272k
440k
7
5th Quarter
144k
264k
432k
152k
272k
440k
8
6th Quarter
144k
264k
432k
152k
272k
440k
9
7th Quarter
144k
264k
432k
152k
272k
440k
10
8th Quarter
144k
264k
432k
152k
272k
440k
11
9th Quarter
144k
264k
432k
152k
272k
440k
12
10th Quarter
144k
264k
432k
152k
272k
440k
13
11th Quarter
144k
264k
432k
152k
272k
440k
14
12th Quarter
144k
264k
432k
152k
272k
440k
* Confirmation: 1 month after booking
* 1st Quarter: 3 months after booking


Whatsapp Us:
NIC
Picture
Email
Mobile Contact 
Mailing Address
Occupation


Payment Proof:
Contact Us 0311 555 324 for payment details
Pay online or transfer payment to FDHL Bank
Whatsapp your payment proof


Get Receipt:
Once payment is recieved you will get your payment receipt.


The city has an unmatched combination of facilities. All the needs of life will be ensured within the premises of the society so the occupants will not need to go away. The project includes
Hotels, Shopping centers, and Sports clubs
Smart and modern Housing plan
World Class infrastructure
Mosques, Parks, lakes
Recreational Activities
24/7 Water, gas & electricity
Smart apps i.e. traffic, weather, electricity, internet
Green and Clean environment
Underground Electricity
The aim of a Smart City is to provide a unique, sustainable development and services to its residents by modern administration. Capital Smart City Lahore fulfills all the requirements of an impressive smart city as following:
COMFORTABLE & QUALITY LIVING
The society is planned to create a pleasant social environment in the region so the people can enjoy a pleasing and peaceful living. It will emerge as a center for commercial, residential and recreational opportunities.
REMARKABLE TRANSPORT INFRASTRUCTURE
All the planners and workers are trying to make an easy and comfortable source for traveling inside and outside. A network for road users, connecting routes to main neighboring routes, pedestrians, cyclists, and other mobility need is being built with great advancements. The society will bring a remarkable transport infrastructure with higher efficiency.
IDENTITY & HERITAGE
The capital smart city will become an iconic place for both international and residents because of its unmatched structure and facilities. Its buildings and amenities will be a wonderful piece of modern architecture. New religious and cultural centers will be built. Capital Smart City will become a mark of uniqueness and heritage.
Security
CCTV cameras with facial and object recognition are a built in feature of CSC. Security of world class is meticulously planned and personnel to be deputed will be from reputed and highly trained security services. Moreover, the smart features of residential quarters along with all buildings in CSC will ensure no subversive activity goes undetected.
ECO-FRIENDLY ENVIRONMENT
Being a smart city, the project has included the conservation of natural resources as a priority. From development to its competition, society ensures that the natural areas of the surroundings are not disturbed. So, Capital Smart City becomes a society where the residents can truly experience an environment of peace and calmness.